Our Dedicated
Rooms
1+1 Preschool has strived to create the best educational environments to increase a child's ability to play and learn.
Pukeko

Room

Under 2's

Pukeko Room Statement and Philosophy

In the under two-room, we have a maximum of eight children, aged between three months and approximately two years. The ministry of Education requires an adult to child ratio of one to five but we prefer a ratio of one to four to ensure our children's needs are met.

When the children are approximately two years old we start a transition into the over twos room which is a gradual process. This usually takes a month, starting with short visits and builds up to a full day. This enables children to build familiarity with the routine and develop relationships with the teachers and children in the over twos room. We focus on developing self-help skills and independence before the transition time which helps to ensure a smooth transition and enables the children to build important skills that will assist them throughout life.

The under two room has its own
philosophy

and

beliefs

on how to achieve the best for our children:
We believe that whanau are children's first teachers and that your values, ideals, beliefs and goals are all vital to your child's development. We strive to work together in collaboration with you to achieve the best possible outcomes for your child.
We view children as having an extensive whakapapa, with whanau, friends and the wider community all contributing to a child's life experiences and that join the child on their journey of knowledge.
We recognise the value of primary caregiving in assisting children to establish a responsive and trusting bond which will enable them to develop their own identity and become secure in their ability to build relationships.
We recognise that each child is a unique individual with different skills, abilities, interests and needs, and we take this into account when planning our programme to ensure each child is catered for.
We take a holistic approach in ensuring that every child's cognitive, social, physical and spiritual well-being is respected, nurtured and enhanced.
We recognise the significance of the Treaty of Waitangi as a fundamental part of Aotearoa and believe in the importance of promoting and encouraging a bicultural environment.
We strongly encourage the development of social skills such as communication and teamwork and role-model them daily.
We recognize the environment as the third teacher and believe we need to set it appropriately to engage children and enhance their development and learning.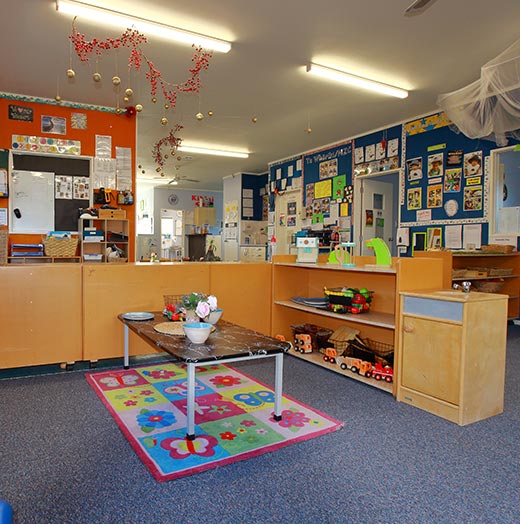 Kiwi

Room

Over 2's

In the Kiwi Room, we as teachers take great pride in making sure we create a friendly, positive and supportive environment for our children.

We believe that it is highly important to build strong and positive relationships with each child. In the Kiwi room, we believe that our children's ability to thrive and learn is reliant on whether they establish an intimate, responsive and trusting relationship with the teacher. We also work side by side with the parents, to make the children's learning more concrete.

The environment plays a vital role to the children's learning and we make sure that we are covering all children's interests around, as well as the Te whaariki areas.

Children are individuals and therefore we focus on their individual interests and needs. We encourage dynamic learning, giving every child the opportunity to grow into lifelong learners.

As a team, we value the understanding of a teacher-parent partnership approach. Communication is our core value, as we believe that our children will gain the most benefit from it.

The team in the Kiwi Room are passionate educators who share a genuine love for children, family and each other. Your child will be loved from the heart and encouraged through positive guidance.
Come visit our Centre

Book your tour now
We think our centre is truly awesome, but don't take our word for it. Come and experience it for yourself and meet all our friendly team. Fill out your email details and one of our team will contact you back to book a tour.